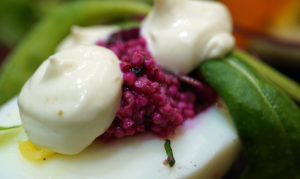 I had the good fortune to get to know chef Teemu Kaijanen better at the International Green Week. Teemu is a chef with heart and soul – he was born in Lappeenranta, in south-eastern Finland – and even as a child he was sure that cooking would be his profession.
When he was young, he was lucky enough to be accommodated by the famous Finnish chef Markus Maulavirta in the Nokka restaurant – here they cook exclusively with regional ingredients. This time has left a deep impression on him and has not only deepened his knowledge of traditional Finnish cuisine, but also awakened his interest in fusion cuisine.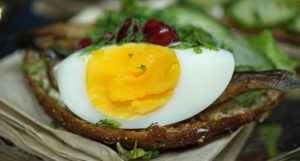 In recent years Teemu has worked in several renowned restaurants in Finnish tourist centres. These include Ilmatar, which takes its name from Finnish mythology – or in the north, in Lapland, more precisely in Saariselkä, a handful of restaurants have had the opportunity to work with Teemu. Teemu has also worked in the Norwegian Embassy in Helsinki, at Porsche & Audi, Kekkola Mansion, Anttolan Hovi and Vilee in Mikkeli.
Teemu's philosophy is that tasty dishes do not have to be complicated. In his opinion less is often more. He attaches great importance to working with ingredients from the region instead of "flying them in" as it has long become a sad habit in some places. He is a true master when it comes to the professional cutting of fish and knows how to use every part of the fish.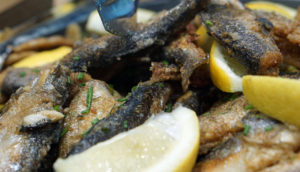 It is important to Teemu that you can always taste every ingredient in his dishes and that the textures are preserved. He himself is a real fish lover – although his secret favourite "Paistetut muikut" – is vendace breaded with coarse rye flour and fried in butter.
For this, it is best to use muikku – a very small and fine vendace as found in the Saimaa region. These fish can be eaten with head & bones, just like the Kieler Sprotte.
Ideally you should serve it with a salad with diced potatoes, cucumber and a sour cream dressing – then, before serving, a few strong drops of fresh lemon juice directly onto the fried vendace and a piece of good bread and the Finnish meal is perfect.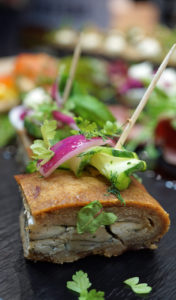 Everything Teemu offered at the Green Week was of excellent quality and freshness – although I have to admit that I liked the "pork rib" (Kuvalan lihaa) best of all. On the one hand because the quality of the meat was top and you could perceive the original taste very well – on the other hand because Teemu managed to cook the meat to the point. It was still juicy, kept its shape, was marinated with an excellent, exceptionally "fruity" currant marinade and also had the necessary roasting aromas to be special – a great compliment for this dish!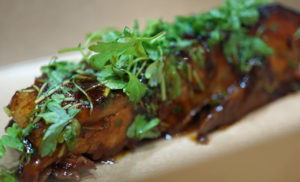 There was also fresh Karelian pierogi (Karjalanpiirakka) with a very, very tasty Finnish Salmon trout and egg-butter. Such a quality of cold smoked salmon (Puumalan Lohi) is not often found, a bit firmer in bite – not oily and salted to the point – in my view, significantly better than some real salmon. Teemu has used his porcini mushroom cream (Herkkutattikastike) in many dishes – even the halved eggs with Finnish quinoa – a really fine thing.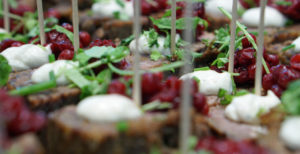 In addition to many other bites like Sapas Tapas Savo style and an excellent and butter-soft slow-cooked beef (Pienikankaan ylämaankarjan lihaa) with beer sauce of the Pienikangas estate, there was also a remarkably delicious cake (Mustikkarättänä) Saimaa-style with blueberries at the end. Just with enough sweetness, a good portion of fruit and enough crispiness – all a culinary delight.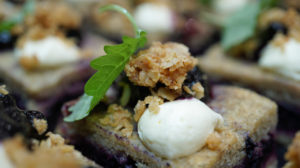 With the small and fine restaurant Vaiha in the Finnish village of Mikkeli, Teemu has also created a real culinary gem. The stylish building at the railway station invites both locals and tourists to enjoy particularly authentic culinary delights. The rush there is already so great that Teemu will expand. The best time to visit Teemu's restaurants is mid-August, when all the local ingredients are available.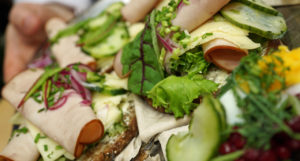 The website of Vaiha is currently in Finnish, but is just being revised and extended to English and German.
Teemu, thank you very much that you were able to introduce me to the Finnish cuisine in the short time we had together. I hope I will visit you in Finland in the next few years to get to know the original Finnish cuisine even better.