I've loved ribs since my earliest childhood – although it was mostly pork ribs – especially when they came from the grill. Differently than with the ribs of the cattle, there were then rather times braised by my granny…
Jump directly to the Beef Short Ribs from Ein Stück Land, Westerberger Fullblood and the Fleischrebellen
This changed when I first ate BBQ Short Ribs, which was more than two decades ago in the USA. We went to Las Vegas on a must-see visit to the casinos and at some point, we got hungry. Right around the corner from the casino there was a Tony Romas – I didn't know this chain before, but the photos of the ribs and the scent did the rest and who wants to visit Sizzler's…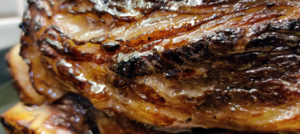 So, I ordered my first serving of BBQ Short Ribs ever and was immediately blown away. I had never enjoyed ribs that tasty before. I had chosen Blue Rich Smoky as the sauce – a great sauce…I don't think they make that one there anymore – the meat of the ribs literally fell off the bone and the ratio of meat to fat was ideal – and all this with lots of roasting aromas.
When Tony Romas opened his restaurants in Berlin, I was of course looking forward to the Short Ribs. I was able to enjoy them there a few times, but after a short period of time they were taken off the menu – which I found more than a pity. Tony Romas justified this by saying that the locally available beef ribs were simply too fat. Well, in the meantime many years have passed and there are probably beef ribs there again – more precisely from calves – at least as far as I have heard.
But this is only a small excursus to make clear where my love for beef ribs in general comes from.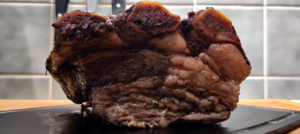 I have to admit – and I'm sure some people will scold me for this – I'm not a big fan of RUBs – to "bury" good meat under a thick layer of spices, as especially the Americans or even Australians love it, remains rather the exception for me – unless of course it's an herb crust. For me, it is more a matter of emphasizing the meat's own aroma with the chosen spices & sauces.
Some people cook their ribs before they land on the grill, some others put them in home-cooked BBQ sauce for days, or you stay as a purist and use at maximum salt and pepper…there is never the "right way" – only your own. In the end, of course, what counts is whether it tastes good, whether it is easy to eat, and perhaps how you look after eating the ribs…
For this small session I decided to work with Sous Vide and chose three different providers, where two of the three ribs were wet-aged and one was dry-aged. In the following I have created a short "profile" of each of the different ribs and their origin.
Three kinds of Short Ribs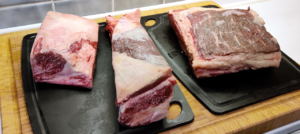 Selection
When selecting the "candidates" for this Short Rib Session, it applies to at least two "participants" – Ein Stück Land & Westerberger Fullblood – that they had already been part of my last Picanha session (contribution still in progress) and had convinced. All three of them, including of course the Berlin Fleischrebellen, have top ratings almost without exception.
This, but especially the approach of the three how they deal with the topics animal welfare & sustainability, were ultimately decisive for my – in any case, as otherwise – subjective selection.
Stores & Delivery
All three providers have a stylish, responsive and intuitive web shop with all kinds of meaningful product images and each of these providers has top ratings almost without exception.
The shipping to Berlin did not take longer than 1-2 days for any of the suppliers, and all suppliers attached importance to a proper and sustainable packaging – my thanks for that!
As a special highlight I found the delivery procedure of the Fleischrebellen – they offer delivery within Berlin with their own service. It makes a big difference to what extent the delivery driver knows what he is transporting. In addition, you receive a SMS reminder a good 45 minutes before the exact delivery time – very convenient.
At Ein Stück Land I noticed another nice detail – the shipment came with a little card with a handwritten note who packed my package lately – a nice thing with a personal touch.
Last but not least, Westerberger Fullblood came up with a little gimmick – in this case a key ring with a leather-lable from Wagyu cattle – a nice little gift to round off the first impression.
Ein Stück Land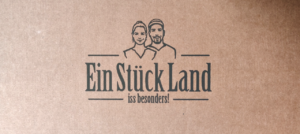 On the one hand, I had short ribs from Ein Stück Land– in this case from Galloway cattle. Lina & Hinrich, the founders of Ein Stück Land ensure that all the farms they work with are reared in suckler cow husbandry and are fed exclusively natural feed. Respect for the animals, their appreciation, sustainability and a completely ecological approach are just some of the hallmarks of this North German enterprise. The outstanding concept: it is only slaughtered when an animal is completely marketed – a great approach I find.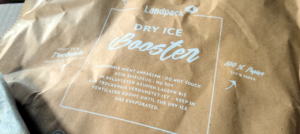 The meat package from Ein Stück Land was delivered in a sturdy cardboard box by GO! Ein Stück Land has been shipping everything chilled since the early days of the company with this private express service provider.
The goods were frozen at the time of packing – which, in combination with the ecological thermal packaging based on straw, ensures that they remain in top condition even if it takes a day longer.
In addition, a "Dry Ice Booster" was included, which in combination with dry ice provided long-lasting cooling. Special here is that by insulating the bag by means of cardboard and paper shreds, half of the dry ice can be dispensed with while the bag itself is effective – lived sustainability!
In addition to meat and cooling elements, the package also contained a small booklet. Here, Lina & Hinrich von Ein Stück Land explain, among other things, the company philosophy and approach to breeding, distribution, sustainability, ethical actions and the unique marketing concept of this organic meat store in general – very nicely implemented.
Bought from: einstueckland.de
Short Rib: 1,00 kg | 39,00 Euro/kg | dry-aged, delivered deep-frozen
Breed: Scottish Galloway
Galloway heifer, sustainable & natural rearing in traditional suckler cow husbandry, in a nature reserve in East Holstein, slaughter age slightly over 36 months, live weight approx. 350-400 kg, carcass weight approx. 250 kg
Here is a small photo selection, starting with the still shrink-wrapped Short Ribs, the Sous Vide result, the grill and the cutting.
A little moving picture never hurts to get a better impression. So here is a small clip for you.
Westerberger Fullblood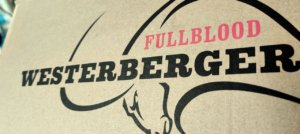 The ribs from Bavaria were, namely Wagyu Short Ribs from Westerberger Fullblood. Franz Kirchner has established a breeding farm here where natural, ecological and above all species-appropriate breeding is the focus. Excellent meat is produced here and especially the year-round grazing can be tasted.
The meat package from Westerberger Fullblood was also delivered in a sturdy cardboard box. Here too, the goods were deep-frozen at the time of packaging – which, in combination with the ecological straw-based thermal packaging, also ensured that they would still be in top condition even if it took a day longer. However, in this case the delivery took only 24 hours – my compliments for that.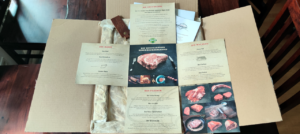 Westerberger Fullblood also had a chic little booklet on eco-paper in the delivery box. In addition to some very appealing pictures, which immediately make you want to see more, topics relating to the company's philosophy are also shown here. For example, the history of the farm, the animals, the slaughtering, feeding, preparation tips and much more – all very attractively designed.
Bought from: westerberger-fullblood.de
Short Rib: 1.00 kg | 55.00 Euro/kg | wet-aged, deep-frozen delivered
Race: Fullblood Wagyu
Fullblood Wagyu ox, sustainable & natural rearing in traditional suckler cow husbandry on the Westerberg pastures in Bavaria, slaughter age at least 48 months, live weight approx. 900-1100 kg, carcass weight approx. 600kg
Also, here a small photo gallery from the still shrink-wrapped Short Ribs, over the Sous Vide result, up to grill and cutting.
Of course, you also need a small video here…
Fleischrebellen
The third ribs in the bunch – Wagyu ribs from the beautiful Mecklenburg.  You can currently buy them from the Berliner Fleischrebellen. The Fleischrebellen offer many great quality meats & cuts through their online store – you should not start to rummage hungry here…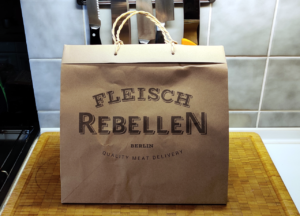 The consignment of the Fleischrebellen was delivered in a stylish paper bag, by the in-house driver shortly after receiving the corresponding notification SMS. Since it concerned here a supply within Berlin and the Fleischrebellen in principle no deep-frozen commodity to lead had the Ribs the best "constitution" immediately to be processed further.
The Fleischrebellen delivery contained a hand-written greeting card as a small personal gesture.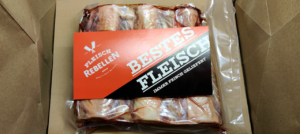 Bought at: fleischrebellen.de
Wagyufarm, Matthias Frahm
Short Ribs: 2,0kg| 46,00 Euro/kg | wet-aged, delivered chilled
Race: Wagyu Fullbood
Fullblood Wagyu heifer, sustainable & natural rearing in traditional suckler cow husbandry on Mecklenburg pastures, slaughter age approx. 36-45 months, live weight approx. 850 kg, carcass weight approx. 470 kg
The following photos show you the "development" of the Short Ribs from the Fleischrebellen, starting with the shrink-wrapped ribs, over sous vide, the grill to the cutting.
Last but not least – here a video clip of the Short Ribs of the Fleischrebellen.
Preparation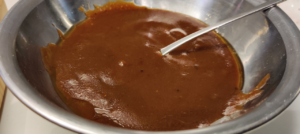 Besides salt & pepper I also used a BBQ sauce this time – of course I "brewed" something of my own. I used my favourite steak sauce as a base – in addition I added some beer, tomato paste, elderberry syrup and a few spoons of BBQ sauce with cranberries. I marinated the short ribs very lightly before they were put in the Sous Vide bath. It was important to me to make sure that the flavours of the meat would not "go under".
First of all, I built my "Sous Vide Construct" – a transparent gastro container with a lid, which was CNC-machined to allow my Anova Precison Stick to penetrate. I filled the whole thing with water and set it to 25 hours running time at 64°C – 25 hours because including the warm-up phase a day at 64°C should come around for sure.
Afterwards, I seasoned the three ribs – I had already taken them out of the fridge in advance to bring them to room temperature – with Hawaii Red Gold Salt* and freshly ground black pepper.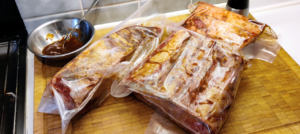 I prefer black pepper, because in my opinion it has a much less obtrusive note than white pepper. I then rubbed all the ribs with the prepared sauce, placed them in plasticizer-free bags and vacuumed them.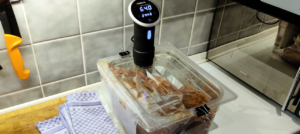 In the meantime, the water bath had reached 64°C – so the sealed ribs went into the water – but with the three "packages" my gastro container was at its limit, with the Anova Stick still having enough space and the water circulating properly. From here on I had to wait…
I had already preheated the oven almost twenty minutes before the time was up so that the Short Ribs would not get a "cold shock" during further processing. I had also already brought the grill up to maximum temperature, so that it would work with the missing roasting aromas.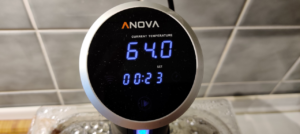 When the Anova Stick reported "ready", I took the ribs out of the bags and patted them dry. In all three varieties the bones were already starting to come loose from the meat – in my opinion the optimal moment for grilling. So, Ithe ribs went to the grill – but in stages, because of the amount of meat – and the preheated oven paid off.
After all Short Ribs had received enough roasting aromas, they were then placed under the top heat grill for a few minutes – for finishing, so to speak. After a further rest period at 50°C in the oven, the tasting was ready.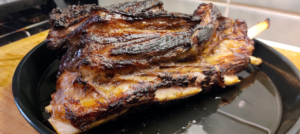 To put it in advance, all three Short Ribs were super delicious. They differed in taste, shape and consistency, with the Galloway having the lowest fat content. The ribs from Ein Stück Land are of high quality and have a very fine aroma. Nevertheless, they are of course a bit more reserved in taste than the two Wagyu Ribs. The meat was a bit firmer with the same cooking time, which may also be due to the different cut.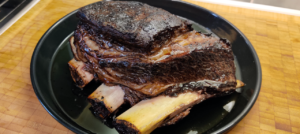 The Mecklenburg Wagyu Short Ribs from the Berlin Fleischrebellen were the largest unit with their two kilos. The meat was packed very carefully, had been well parsed beforehand and, compared to the other two varieties, had the strongest bones. These ribs had a fine marbling and also came with a strong layer of fat. As a result, these ribs were the fattest, the meat was tender and the aroma very tasty – although perhaps a little restrained.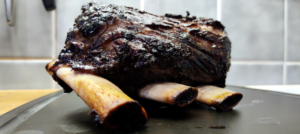 Last but not least the Short Ribs from Westerberger Fullblood – in this small session the most cost-intensive ribs. The piece, weighing a good kilo, had a picture-book marbling, with the bones ranking in the middle of the field in terms of size. The ribs had a fat cover of a good one and a half centimetres and the unit was easy to handle on the grill. Compared to the other two varieties, the meat was even more tender and had "the plus" of taste and aroma, which is what the Bavarian breeding company promotes.
Conclusion
In this small Short Rib Session, my main goal was to find out whether and if so, how much the products currently offered online differ from each other. I also had the intention to test the possibilities of my Anova Sous Vide Stick and the corresponding self-made setup.
I am very positively surprised about the quality of all three ribs I ordered. The shopping experience on the respective store pages was pleasant throughout and the received goods were of high quality in each case.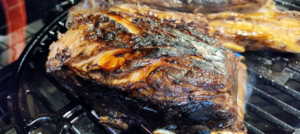 Of course, there were differences between the different Short Ribs, but I couldn't give away any "places" because they were rather marginal in terms of culinary pleasure.
So much for the Short Ribs. I think I was able to whet the appetite & desire of some of you for this delicious cut – good luck!
There was one more thing…
Incidentally, this session was the first time I used the stylish cutting boards from Opa Muurikka from Finland. I brought them along with some other tools on my last visit – I had enough of the conventional plastic cutting boards. If you use really sharp knives, you will always have small particles in your food at some point – the same with most woods…let's see what the new boards can do…more about this soon in the CheckIt section.
*The Hawaii Red Gold Salt I used for the Short Ribs – and of course many other delicious salts – can be found at Salmundo.